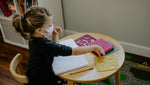 Kids Face Masks – 5 Tips for a Stress-Free Morning
Kids are struggling now in wearing masks, and social distancing has become the new normal. The ability of children to adapt to these changes is quite impressive. Although they may not fully understand the scientific reasoning behind the masks, many children are happy to wear them. That said, it isn't always easy for the parents. Ensuring your child has a clean mask is another thing parents worry about as their children head out to go somewhere.  To help save you the stress of realizing your child doesn't have a mask, here are some easy tips you can put in place today:
1. Have a big selection of masks
Set yourself up for success with a large selection of kids face masks. The reality is, your kid is going to lose their face mask. Think about how many times your child has lost a mitten or hat? It happens, and that's okay! No need to stress; just make sure you have an adequate supply of kids face masks at home, so if one mysteriously disappears, it's not a big deal.
2. Pack extra kids face masks in their backpack
If your child gets their face mask dirty or loses it while at school, pack them an extra face mask and tell them where it is. Let your child know that this is an emergency face mask and should only be taken out if they can't wear the one they went to school with.
3. Get kids face masks with unique patterns and designs
There are so many adorable kids face masks out on the market right now. Having a unique pattern and design is fun for your child and will ensure they don't get mixed up with another child. Everydayspecial has the cutest selection of Sesame Street and Elmo reusable kids face masks that kids are guaranteed to love. There are masks that will make their mouth look like Big Bird, Elmo, and Cookie Monster –  adorable!
4. Set up a mask routine
Set up an easy to follow mask routine for you and your child. For example, place a large basket full of kids face masks by your front door. Everyday before leaving the house, your child will pick 2 masks, one to wear, and a backup mask for their backpack. Your kids face masks will also need to be washed after school, and you don't want to get stuck one morning having no clean masks to wear. To prevent this from happening, put another basket in your laundry room for dirty masks. Everyday after school, your child will put the mask they used that day in the washing basket. You can then set a washing routine; for example, every Saturday morning, you wash the masks for that week and then replenish the clean mask basket with fresh kids face masks.
5. Keep some in your car and purse
Things can get hectic in the morning, and there may be days you both forget to pick clean masks from the basket. Have some backup masks stashed in your car or purse for these days!
This time last year, it would be hard to believe that we would be worrying about kids face masks. However, it is now our reality, and there are ways to make it easy and fun while ensuring our kids head off to school with a clean mask. If you are looking to increase your kids face mask supply, everydayspecial has a pack of 32 masks with 9 different designs. Having an ample supply of cute masks like this will make your weekday mornings a lot easier!