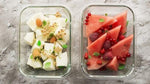 5 Reasons! Why to Switch from Plastic to Glass Food Storage
Since plastic storage containers usage is considered a bit on the unhealthy side, I want to guide you on the topic. I'm sure there are more reasons but I've uncovered 5 reasons why glass food storage is superior. Among its advantages, glass food storage…
1. Keeps food safe: 
Glass is cleaner than plastic. Glass sturdy surface doesn't absorb food and germs and it can be safely washed at high temperatures in your dishwasher. It doesn't migrate toxins from the container to your food while you reheat food in a microwave.


2. Enhances food flavor: 
Food simply tastes fresher, cleaner and nutrient intact, stored in glass. Glasses are safe, the glossy surface repels food odors and residual flavors. And when food reheated in the glass container, whether in a conventional oven or microwave it tastes superior to meals heated in plastic.
3. Helps clean-up the planet:
Using glass rather than plastic significantly reduces landfill and carbon footprint. It also saves energy on plastic's inefficient recycling process. Once you invest in glass storage containers, your supply pretty much lasts for a long time. With care, you'll use your original glass containers almost forever.
4. Saves you money: 
Glass is usually costlier than plastic, at first glance; it seems a switch to glass will be more expensive. But, glass is pretty much a one-time investment. It actually saves you money in the long run. And glass comes in a wide range of prices, you can choose according to your convenience.
5. Eases food prep, serving, and clean-up:
Tempered glass food containers can help reduce food wastage, as the clear containers will let you see what in the fridge before the food goes bad. Glass containers can easily be transformed from storage containers to a serving container. Washing it is faster and is cleaned safely at high temperatures in a dishwasher.
Glass is simply prettier and more affluent looking than plastic. Plastic containers are made with chemicals, which degrades over time releasing chemicals into your food. Glass can take the heat; which makes it particularly easy to sanitize in washing and safe to use in oven or microwave.
Some popular best selling Glass Food Storage Items that I have at

everydayspecial.com
Glasslock Assorted Food Storage Containers 18-Pcs Set
Glasslock Yum Yum Baby Food Containers, 6-Pcs Set - Square 7.1 oz/ 210ml


Glasslock Yum Yum Baby Food Containers + Silicon Spoon, 9-Pcs Set, Rectangular 5.07 oz/150ml

Glasslock Yum Yum Baby Food Containers, 6-Pcs Set, Round 

Glasslock Assorted Food Storage Containers wit Blue Lids, 8-Pcs Set