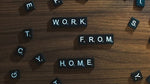 Must-Have Item When Working From Home
Due to Covid-19, many individuals are working from home. Pre-pandemic, it is estimated that only about 3% of the population was working from home. This number has significantly increased, with almost half of the population now working from home and adapting to their space to accommodate work and home life.  Recent surveys and estimates believe that for many, working from home is the new reality, and even when the pandemic is gone, many companies will keep work from home practices in place.  
There are several adjustments to be made when working from home. For some, it has become harder to find that work-life balance when the space is the same, and others are finding they don't have the appropriate set up to effectively do their work. The key to finding that work-life balance and having a workspace that fits your needs is to modify your work area. When we started working from home, we didn't know how long this would last.  Many of us just sat down on the couch or kitchen table with our laptops to get it done. Working from home seems to be sticking around for a while, so you need to create a designated workspace where you can comfortably get your work done during work hours and then leave once work is finished.  
Would a home office be nice? Absolutely, but that's not in the cards for many of us. There are some simple ways to have a great workspace at home without breaking the budget. Here is the #1 item you need to have a better space when you work from home. 
LED Desk lamp
An LED desk lamp will prevent you from straining your eyes. When we sit at our desks all day, our eyes can become very fatigued, causing dry eyes and even headaches. The lighting in your area should be soft but bright enough to effectively light up your workspace. An LED desk lamp with a gooseneck will allow you to easily adjust where the light is.  Not only will it be easier on your eyes, but the Energy Policy Journal also published a study and found that productivity increases when using an LED desk lamp! Everydayspecial has sleek, modern-looking LED desk lamps that feature a touch sensor for easy use. Aesthetically pleasing in both white and black, these LED desk lamps are both stylish and functional.
LED Desk Lamp vs. Traditional Desk Lamp
There are lots of advantages to choosing an LED desk lamp! LED lightbulbs have a much longer lifespan than traditional lights, and they use a lot less energy. By using LED lights in your home, you will save energy and reduce your electricity bills. They are also really versatile; you can use it on your desk, bedside table, or end table to provide extra light where you need it most.
You don't need to invest in an expensive mahogany desk and leather office chair to improve your workspace at home. A quality LED desk lamp will enhance your space significantly and make working from home a little easier.