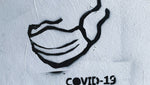 Still using a replacement? Time to wear reusable face mask
CDC (Centers for Disease Control and Prevention) recommends wearing cloth face coverings in public settings where other social distancing measures are difficult to maintain (e.g., grocery stores and pharmacies) especially in areas of significant community-based transmission.
Cotton masks are essential during the flu and corona virus outbreak.
It is incredibly important that people are using 100% cotton masks.
The benefits to these masks are that they are reusable, and are much easier to access as opposed to surgical masks. They can also be easily washed under a low heat option.
The corona virus is causing a world of problems.
Those who are regularly leaving the home and going to public places, such as the grocery store and work, should wear a mask everywhere they go. Ordinary cotton masks are a great use for everyone who isn't in the medical field. They prevent direct exposure to the virus.


They minimize the risk of infections.
Everyone should take every precaution to prevent the spread of the virus; they should wear masks. Wearing reusable or disposable face masks will reduce the number of corona virus cases, and reduce the risks that involve public outings. These masks are affordable and easy to come by. Place bulk orders on cotton masks today to ensure we flatten the rate of this virus, and that everyone stays healthy.