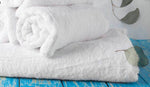 What Types of Towels Do Hotels Use?
There is no feeling quite life the plush, soft touch of a hotel towel. The material consumes guests in feelings of warmth and coziness. Hotel towels alone make visits to the local Hilton Garden Inn or Marriott feel otherworldly. So what makes these towels so special?
Material
The most important element of the hotel towel is its material. Hotels want guests to enjoy the fluffiest, most desirable towels, so they spring for towels that are made of 100% cotton. This is why wrapping oneself up in a hotel towel feels like cuddling a cloud. The type of cotton is determined on a hotel's budget and star rating. Five-star hotels often use the highest class of cotton: Egyptian. Four and three-star are more likely to use cheaper, yet effective, cottons like American cotton or Turkish cotton. Though these cottons are not the exact same, they feel pretty similar.
Those who don't have the affordability for 100% cotton towels do what they can. Many hotels opt for a similar kind of towel by ordering towels that are made up of 86% cotton and 14% polyester. These towels have the same feel, but help save hotels money that could be allocated to other areas, like the pool or breakfast buffet.
Size
Guests may have noticed that hotel towels seem abnormally large; that's because they are. Hotels have a wide range of towel sizes; they have bath towels, hand towels, and wash clothes. The standard hotel bath towel is anywhere from 20"-30"x 40"-60", though hotel towels tend to fall on the larger side of this scale.
Weight
Another great aspect of the hotel towel is its weight. The hotel bath towels tend to have a weight to them that make it easier to dry off and warm up. Hotels tend to buy the heaviest towel they can find. Most of these towels range from 5-10 lbs, but there are some that are as heavy as 20 lbs.
Texture
Even after many washes, hotel towels keep that same soft, furry texture. This exists because of a specific washing technique. Hotels take their towels seriously, so they take good care of them. Through a routine of washing regularly, using more fabric softener and less detergent-- as well as baking soda-- the hotel industry has perfected the art of making the perfect cozy towel. Those that have the most GSMs (grams per square meter) are the most snug of all.
So, there it is. By combining the best of the best of each towel element- material, size, weight, and texture-- hotels use the best kinds of towels. They are extra soft, extra warm, and everything a person could want in a towel. The art of finding the best towel exists, and the hotel industry has perfected it.