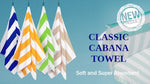 Is It the Time to Replace Your Towels?

One of life's many simple joys is wrapping you in a fluffy fresh clean towel. Most of us take our towels for granted, but when we think about it, the towel is a versatile and necessary product. You use towels every day and in many different ways — you dry your dishes with them, use them to dry off yourself after a bath or shower, lay on the towels at the beach, clean with them and expect them to be readily available at gyms, hotels, and spas. You need towels everywhere!

Proper caring for your towels is important if you want to get the most out of them and to care for them appropriately so that you can enjoy your high-quality towels for years. Inevitably, you would have to replace your towels someday, but do you know when it is time to replace them with new towels?
Whether you're buying towels for your home or your business, you should first consider proper towel care. If you care for your towels as you should, you would save a lot of money and use them for a longer period of time. Proper towel care is fundamental for a few important reasons:


- Towels are one cost germ-infected objects in your home or business.



- Towels are mostly used in germ-ridden areas.

- Dirty kitchen towels can contain thousands of bacteria and other germs.

- Towels can easily pass illnesses from one person to the next. 
So, the question is – When Is The Time to Replace Your Towels?
Even with proper care, your high-quality towels will eventually wear down and need to be replaced. There are different standards for every industry, but, generally speaking, the lifespan of a towel is measured on these three major factors:
1. Quality. Cheap towels won't last as long as high-quality towels.
2. Frequency of use. The more you use your towels, the shorter their lifespan will be, because of wear and tear.
3. Level of care. If you take good care of your towels, wash, dry and care for them as you should
— they will last longer.


No towel will last forever, and determining when it's time to replace it can be a matter of preference. If you clean them well and don't mind it being stiff, worn-out towel, you can use them for years. If you offer towels to your customers, a hard, worn-out towel, it won't make a good impression even if the towel is clean.


Generally, there are two signs that it's time to swap your towels:




1. Your towels are tattered, or they lost their absorbency and softness.
After a year or two, the threads of your towels will start to break down. It's time to purchase new towels because the towels won't be as soft or absorbent to use when the fibers are gone. It's best to cut your towels into rags and replace them with new, thick and fluffy wholesale towels.
2. Your towels stink.
Old towels, or towels that haven't been properly cleaned, can develop a moldy smell that won't go away with a regular wash. When this happens, it's time to replace them. A dingy smell that returns to a seemingly clean towel as soon as it becomes wet is a sign it's possessing mildew or bacteria.
If you realize it's time to replace your towels, our inventory includes economy, premium and premium-plus options of hand towels, beach towels, bath towels, fingertip towels and more. You can also check out our blog on Best Beach towels and Beach Blankets.